Welcome to Fame Residences
Are you dreaming of a luxurious and convenient lifestyle in the bustling heart of Mandaluyong City? Look no further than Fame Residences, a remarkable development brought to you by SM Development Corporation (SMDC).
Located at the intersection of EDSA and Mayflower Street, Fame Residences stands tall as an iconic residential tower, providing unparalleled living. Also, with its world-class amenities, stylish unit options, and prime location, Fame Residences is truly a place where dreams come true.
Live in the Heart of Mandaluyong City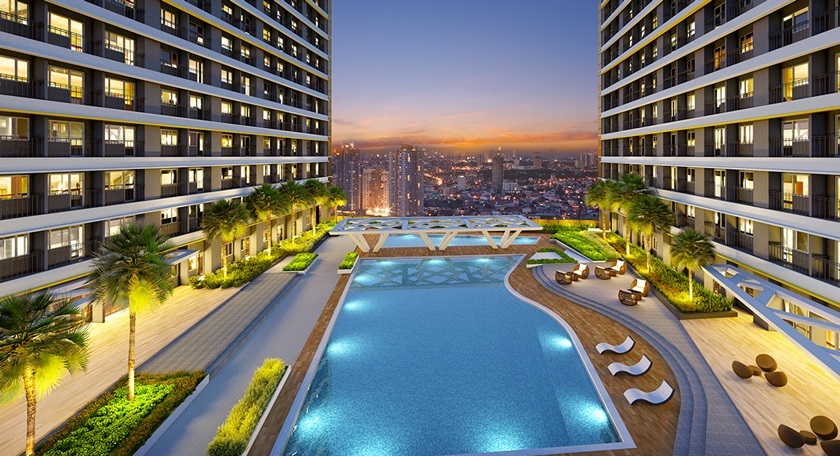 Fame Residences enjoys a prime location in the vibrant city of Mandaluyong
Situated at the corner of EDSA and Mayflower Street, this magnificent development offers easy access to various business districts. Making it a perfect choice for professionals and entrepreneurs. Whether you work in Makati, Ortigas, or BGC, you can conveniently reach your workplace. In short, with minimal travel time, allowing you to maximize your productivity and spend more time with your loved ones.
Unmatched Accessibility and Connectivity
One of the key advantages of living in Fame Residences is its excellent connectivity. Also, with its strategic location, residents enjoy easy access to major transportation hubs and highways, making commuting a breeze. The MRT Shaw Boulevard station is just a stone's throw away, providing seamless transportation to different parts of Metro Manila. Additionally, famous landmarks such as SM Megamall, Greenfield District, and BGC are within proximity, offering a myriad of dining, and entertainment options.
Luxurious Living Spaces
At Fame Residences, you can choose from a wide array of unit types designed to suit your lifestyle and preferences. Whether you're looking for a cozy 1-bedroom unit with a balcony or a spacious 2-bedroom end unit, Fame Residences has the perfect home for you. Each unit is meticulously designed to maximize space and provide the utmost comfort. With its elegant interiors, modern fixtures, and panoramic views of the city, every unit at Fame Residences exudes sophistication and style.
A Sneak Peek into Your Dream Home
Let's take a closer look at some of the exquisite unit types available at Fame Residences:
1-Bedroom Unit with Balcony: Enjoy the luxury of having your private balcony where you can unwind and marvel at the breathtaking cityscape.
1-Bedroom End Unit: This spacious unit offers ample room for relaxation and entertainment, making it perfect for individuals or couples.
2-Bedroom End Unit: Ideal for families, this unit provides a comfortable living space for every member of the household, ensuring everyone's privacy and convenience.
World-Class Amenities
Fame Residences takes pride in its exceptional amenities, providing residents with a lifestyle of utmost leisure and relaxation. Also, You can step into the amenity area and be greeted by a vibrant and artistically designed space that reflects the glitz and glamour of the entertainment industry.
Here, you can enjoy a refreshing dip in the swimming pool. Work up a sweat at the fitness center, or simply unwind at the landscaped gardens. Also, the amenity area, and modern facilities, are truly a haven where you can rejuvenate your mind. Connect with fellow residents, and create unforgettable memories.
Walk of Fame: A Tribute to Icons
As you explore the amenity area at Fame Residences, you'll come across a unique feature that sets it apart from other developments—the Walk of Fame. Also, inspired by the iconic Hollywood Walk of Fame, this special area pays tribute to the Philippine entertainment industry's brightest stars. Take a stroll along the pathway adorned with stars, each bearing the names of renowned actors, musicians, and artists who have made significant contributions. It's a delightful experience that adds a touch of glamour and nostalgia to your daily life.
SMDC: Building Experiences Worth Talking About
Fame Residences is a testament to SM Development Corporation's commitment to creating exceptional living spaces. As one of the leading real estate developers in the country. Also, SMDC has an impressive portfolio of high-quality residential, commercial, and leisure projects that have redefined the landscape of Metro Manila. With a focus on innovation, sustainability, and customer satisfaction. Also, SMDC continuously raises the bar in the industry, providing homeowners with unparalleled experiences worth talking about.
Ready for Occupancy: Your Dream Home Awaits
The wait is over—Fame Residences is ready for occupancy. With its completion, you can now step into the home you've always dreamed of. No more long construction periods or uncertain timelines. Also, t Fame Residences, you can immediately enjoy the luxury, convenience, and prestige that come with owning a unit in this remarkable development. The model units are available for viewing, giving you a glimpse of the elegant interiors, meticulous craftsmanship, and breathtaking views that await you.
Your Gateway to Luxury Living
Fame Residences by SMDC is more than just a residential tower—it's a symbol of prestige, luxury, and convenience. Also, with its prime location in the heart of Mandaluyong City, easy access to business districts, and exquisite unit options, Fame Residences offers a lifestyle that surpasses expectations. Whether you're a young professional, a growing family, or an investor seeking a prime property, Fame Residences has everything you need to live your dreams to the fullest.
Don't miss the opportunity to be part of this remarkable development. Experience the glamour and comfort of Fame Residences and create a lifetime of memories in a home that truly reflects your success and aspirations.
At SMDC, we believe that every homeowner deserves the best. That's why we've carefully crafted Fame Residences to provide a living experience that goes beyond expectations. Also, from the stunning architecture and world-class amenities to the prime location and stylish unit options, every aspect of Fame Residences has been designed with your comfort and satisfaction in mind.
Imagine waking up to panoramic views of the city from your private balcony. Also, you can picture yourself enjoying a refreshing swim in the pool after a long day at work. Envision hosting gatherings and creating memories with friends and loved ones in the beautifully landscaped gardens. All of this and more await you at Fame Residences.
Make the smart choice and choose Fame Residences by SMDC
Our commitment to excellence extends beyond the development itself. Also, we prioritize the safety and security of our residents, ensuring that they have peace of mind. Our property management team is dedicated to providing efficient and reliable services. Also, our 24/7 security personnel are always on hand to keep you all safe.
Whether you're seeking a luxurious sanctuary to call your own or an investment opportunity with great potential, Fame Residences is the answer. With its prime location in Mandaluyong City.
Also, you have easy access to bustling business districts, major transportation hubs, and a myriad of entertainment and lifestyle destinations. Everything you need is within reach, from the vibrant shopping malls of SM Megamall and MOA to the cultural and historical sites in Manila and Quezon City.
Experience the epitome of luxury living in Mandaluyong City. Contact us today to start your journey toward owning a prestigious unit. Most important, don't miss out on this opportunity to create a life of utmost leisure, convenience, and style. Your dream home awaits at Fame Residences, where every moment is worth celebrating.
Conclusion
Fame Residences is not just a residential tower; it's a gateway to a lifestyle of luxury, convenience, and prestige. Also, with its prime location in Mandaluyong City, exquisite unit options, and world-class amenities, stands as a testament to SMDC's commitment to providing exceptional living spaces.
Whether you're a young professional looking for a stylish 1-bedroom unit with a balcony, a growing family in search of a spacious 2-bedroom end unit. Also, an investor seeking a prime property in a thriving location, Fame Residences has it all. Also, it offers easy access to business districts, entertainment hubs, and major transportation routes, ensuring that you can live, work, and play with utmost ease.
Take the next step towards your dream home at Fame Residences. Contact our sales team today to schedule a viewing and discover the unparalleled lifestyle that awaits you. Don't settle for the ordinary when you can live in extraordinary luxury. Experience Fame Residences by SMDC and elevate your living experience to new heights.
Frequently Asked Questions
Can I purchase a unit at Fame Residences even if I'm not a Filipino citizen?
Absolutely! SMDC welcomes local and foreign investors who are looking to own a property in the Philippines. Also, the process is straightforward, and our sales representatives will guide you through the requirements and procedures.
What are the payment terms available for purchasing a unit at Fame Residences?
SMDC offers flexible payment terms to suit your financial capabilities. Whether you prefer a spot cash payment or installment plans, our sales team will assist you in finding the most suitable option.
Is parking available for residents?
Yes, dedicated parking spaces are available for residents at Fame Residences. You can inquire about parking slots and their availability when you visit our showroom.
How can I schedule a viewing of the model units at Fame Residences?
To schedule a viewing of the model units, simply contact our sales team or visit our website to book an appointment. Also, we'll be delighted to show you around and answer any questions you may have.