Welcome to Gem Residences, where luxury living meets convenience in the heart of Metro Manila. Also, it's a residential development by SM Development Corporation. It offers a unique experience combining world-class amenities with strategic locations. Whether you're seeking a well-deserved rest, a vibrant lifestyle, or an investment opportunity.
Discover the Perfect Location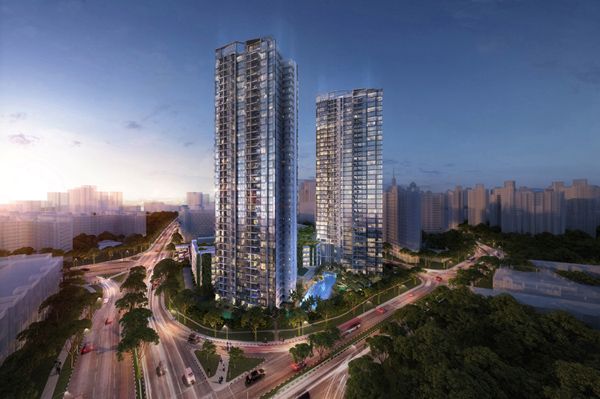 Gem Residences, located in Pasig City and specifically the busy C5 Pasig, is nestled right in the middle of the economic activity. Its proximity to Ortigas Center – a major financial and business district – allows you easy access to world-class shopping centers like SM Megamall. Also, it's an excellent residential location for families or professionals.
Meanwhile, in Quezon City, at the crossroads of urban convenience and natural beauty. Experience the charm and energy of this city, known for its diverse culinary scene, entertainment options, and cultural landmarks. Also, with easy access to major roads and transportation networks, including the Metro Rail Transit (MRT) Line 3, they ensures that you're never far from the excitement and opportunities that Quezon City has to offer.
Immerse Yourself in Luxurious Living
They offers residents a luxurious lifestyle. As soon as you enter, you'll be greeted by modern facilities and spaces that have been designed to suit your needs.
The creators of Gem Residences have thoughtfully curated a range of amenities that promote wellness, relaxation, and entertainment. Take a dip in the swimming pools, unwind at the yoga deck, or maintain your fitness goals at the indoor gyms. More Important, there's something for everyone, ensuring that you can find your slice of paradise within the development.
Also boasts breathtaking views of the cityscape, allowing you to wake up to stunning vistas and retire to a peaceful sanctuary every day.
Each living area is designed with functionality and sophistication in mind. Also, it offers the perfect blend of comfort and design.
Unparalleled Convenience at Your Doorstep
Living at Gem Residences means having unparalleled convenience right at your doorstep. Also, within proximity to the development, you'll find a plethora of commercial districts and lifestyle destinations that cater to your every need.
One notable destination nearby is the Mall of Asia Complex in Pasay City, a world-renowned entertainment and shopping destination. In addition, with its vast selection of retail stores, restaurants, and entertainment facilities, you'll never run out of options for leisure and recreation.
Additionally, Gem Residences is conveniently located near the Ortigas Center, one of the most prominent business districts Section 3: Unparalleled
Convenience at Your Doorstep
Additionally, Gem Residences is conveniently located near the Ortigas Center, one of the most prominent business districts in Metro Manila. Also, this bustling hub is home to numerous multinational corporations, prestigious office towers, and commercial establishments.
Residents of Gem Residences will enjoy easy access to job opportunities, making it an ideal choice for young professionals and entrepreneurs.
They also offers a wide range of medical services. The Rizal Medical Center and other nearby hospitals ensure that quality healthcare services are just a stone's throw away. You can have peace of mind knowing that top-notch medical care is easily accessible whenever you need it.
The SMDC Difference
SM Development Corporation (SMDC), with a long-standing track record of success, is one of the Philippines' most reputable and trustworthy developers. In every project, their dedication to creating communities that enhance the quality of life can be seen. Gem Residences by SMDC is a great example of its commitment to sustainability, innovation, and craftsmanship.
Gem Residences has also incorporated eco-friendly practices to help reduce its carbon footprint and contribute to a sustainable and greener world. When you choose Gem Residences to be your home, you will feel proud that you belong to a community that values environmental responsibility.
Invest in Your Dream Home
Gem Residences presents not only a remarkable place to live but also a lucrative investment opportunity. With its strategic location, luxurious amenities, and reputable developer, they offer the potential for high property appreciation and rental income.
The demand for prime property in Metro Manila is strong due to the growth of the economy and the influx of local and foreign investors. Also, Gem Residences offers you the opportunity to invest in this dynamic market and gain a valuable asset with long-term potential.
SMDC provides flexible payment options and financing assistance, making it easier for you to own your dream home. Whether you're a first-time buyer or an experienced investor, SMDC's professional sales team will guide you through the process and ensure a seamless transaction.
Experience the Vibrancy of Metro Manila
Gem Residences in Metro Manila is situated in the exciting cities of Pasig City and Quezon City. Explore these dynamic cities and their unique offerings:
Pasig City: Gem Residences' strategic location in C5 Pasig – a hub of economic activity – ensures easy accessibility to corporate offices, retail establishments, and entertainment hubs. The SM Center Pasig, SM Megamall, and other notable landmarks are all within a short drive, offering countless shopping, dining, and entertainment options. Enjoy the vibrant energy of Pasig City and immerse yourself in its bustling atmosphere.
Quezon City: As the largest city in Metro Manila, Quezon City is a vibrant and diverse metropolis with a rich cultural heritage. Gem Residences places you right at the heart of this city's bustling energy. Explore the famous commercial districts, entertainment venues, and culinary hotspots that make Quezon City a beloved destination. Also, from the vibrant nightlife in Tomas Morato to the family-friendly attractions in Eastwood City, there's always something exciting to discover. Experience the perfect blend of urban convenience and well-deserved rest in Quezon City.
Unwind and Recharge in Gem Residences
The development offers a range of world-class amenities that cater to your relaxation and leisure needs:
Yoga Deck: Find inner peace and rejuvenate your mind, body, and soul at the dedicated yoga deck in Gem Residences. Engage in yoga or meditation sessions amidst a serene setting, allowing you to escape from the stresses of everyday life.
Indoor Gyms: Stay fit and active with the indoor gyms available within Gem Residences. Also, equipped with state-of-the-art fitness equipment, these gyms provide residents with a convenient space to work out and maintain a healthy lifestyle.
Creators Park: Gem Residences also features a beautifully landscaped park, known as Creators Park. This lush green space offers a peaceful retreat where residents can relax, take leisurely walks, or simply enjoy quality time with family and friends.
SMDC: Your Trusted Developer
Gem Residences is developed by SM Development Corporation (SMDC), a reputable and trusted developer in the real estate industry. Also, with a solid track record of delivering high-quality developments. SMDC has established itself as a leader in providing exceptional living experiences.
You can be confident that SMDC is committed to excellence and will pay attention to every detail. Gem Residences is a testament to SMDC's commitment to providing world-class amenities. The development provides a variety of amenities and features to cater to residents' modern lifestyles.
Your Dream Home Awaits
Whether you're looking for a one-bedroom unit or a larger configuration, Gem Residences offers a variety of options to suit your needs. Step into the model unit and experience the thoughtfully designed spaces that combine style, functionality, and comfort. Each unit is meticulously crafted to create a warm and inviting atmosphere, allowing you to truly feel at home.
Gem Residences also provides a range of flexible payment options, making it easier than ever to turn your dream of owning a luxurious home into a reality.
SMDC understands that purchasing a property is a significant investment, and their dedicated sales team is ready to assist you throughout the process, providing guidance and support every step of the way.
Explore Nearby Landmarks and Destinations
Living at Gem Residences gives you convenient access to a multitude of nearby landmarks and destinations. Here are a few notable places within reach:
Mall of Asia Complex: Situated in Pasay City, the Mall of Asia Complex is a world-class shopping and entertainment destination. Also, indulge in retail therapy, savor delicious cuisine, catch the latest movies, or enjoy exciting events and concerts—all just a short distance from Gem Residences.
Ortigas Center: Located in Pasig City, Ortigas Center is a major business and financial district. It houses prestigious office buildings, commercial centers, and the renowned SM Megamall. Also, explore the vibrant atmosphere, shop at high-end boutiques, and savor delectable dishes at a wide selection of restaurants.
SM City East Ortigas: Just a stone's throw away from Gem Residences, SM City East Ortigas offers a diverse range of shopping, dining, and entertainment options. From popular retail brands to multiplex cinemas, this destination has everything you need for a fun-filled day out.
Ecom Center: Situated in Pasay City, Ecom Center is a premier business district housing several corporate offices and BPO centers. It is a hub for economic activity, providing numerous job opportunities for professionals in various industries.
Live Your Best Life at Gem Residences
Gem Residences, a lifestyle residence, offers more than a place of living. Also, it is a lifestyle experience that includes world-class facilities, a strategic locale, and SM Development Corporation's renowned craftsmanship. Be in the middle of all the action, with commercial districts, entertainment centers, and transportation hubs.
With its well-designed living spaces, luxurious amenities, and breathtaking views. Gem Residences provides a haven where you can relax, recharge, and create lasting memories. Embrace a lifestyle of comfort, convenience, and sophistication in the heart of Metro Manila.
Conclusion
Gem Residences, developed by SM Development Corporation, offers a gateway to luxurious living in the heart of Metro Manila. Also, due to its strategic location in Quezon City and Pasig, the development allows for easy access of thriving commercial districts as well as entertainment hubs. It also offers key transportation links and is close to major transportation networks.
You'll experience unparalleled convenience, world-class amenities, and breathtaking views of the cityscape. Whether you're seeking a well-deserved rest, a vibrant lifestyle, or an investment opportunity. Also, discover the perfect home that combines comfort, style, and convenience at Gem Residences by SMDC.
Frequently Asked Questions
When will Gem Residences be available for occupancy?
Gem Residences is scheduled for turnover in April, ensuring that you can soon enjoy the luxurious lifestyle it offers.
Are there different unit configurations available at Gem Residences?
Yes, Gem Residences offers a range of unit configurations to suit various preferences and needs. From cozy one-bedroom units to spacious options for growing families, you'll find the perfect layout for your lifestyle.
Is Gem Residences pet-friendly?
Yes, SMDC understands the importance of pets in our lives. Gem Residences welcomes your furry friends, providing a pet-friendly environment where they can thrive.
Are there nearby schools and educational institutions?
Absolutely! Gem Residences is surrounded by reputable schools and educational institutions, ensuring that your children have access to quality education without having to travel far.
Is Gem Residences located near hospitals and medical facilities?
Yes, Gem Residences is strategically located near reputable medical facilities. The Rizal Medical Center and other hospitals in the vicinity ensure that residents have access to quality healthcare services within a short distance.