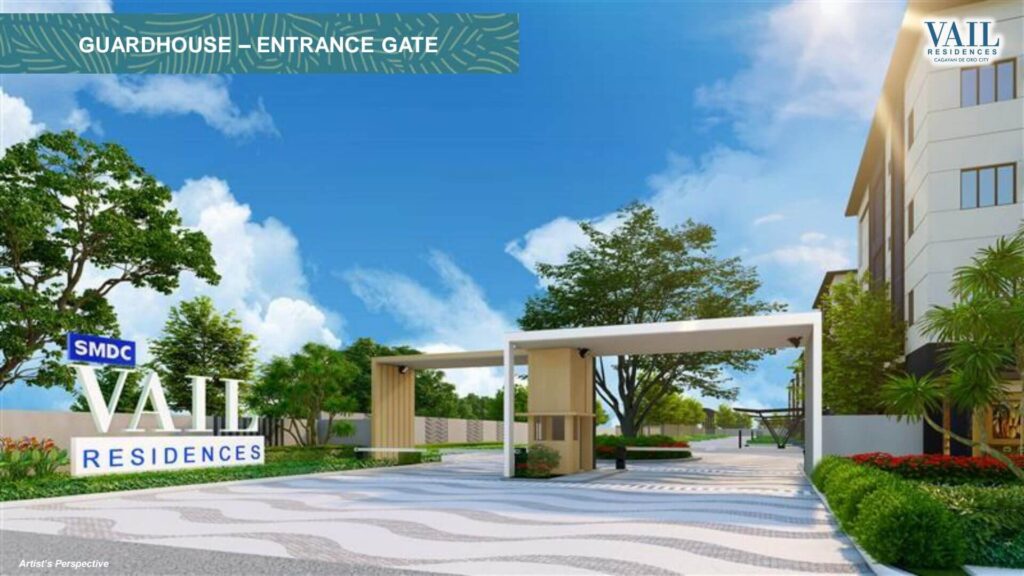 Vail Residences: Your Ultimate Destination in Uptown Cagayan de Oro City
It is impossible to overstate the magnetic charm residences of Vail Residences in Cagayan de Oro City. Located within its finest neighbourhood uptown Cagayan de Oro is testament to modern living at its best. Also brought forth by SMDC vail residences as an exceptional development project. It stands as a beacon of luxury and convenience within this vibrant city of Cagayan de Oro.
Vail Residences offers more than just an address, it's an entranceway into living life to the fullest. So, explore all that Vail Residences has to offer from its grand lobby and cozy studio model units to its recreational amenities like covered basketball court and jogging path. Not to mention its prime position within Northern Mindanao region.
Your Ideal Dream Home in Cagayan de Oro
Imagine living life to its fullest in Cagayan de Oro City's vibrant community while taking pleasure from fine living quarters, luxurious amenities, and vibrant communities like Vail Residences by SMDC is your premier source for comfortable luxury lifestyle living! So, in this article we'll introduce these Residences along with all its incredible features!
Your Gateway to Uptown Cagayan de Oro
Vail Residences stands as an epicentre for modern living in Cagayan de Oro, providing its residents with comfort, convenience, and style all-in-one package. So, as it sits ideally in uptown CDO it delivers all three. Let us explore further what makes Vail Residences CDO truly remarkable place.
Cagayan de Oro Offers the Finest Neighbourhood Options
These residences are situated at the core of Brgy. Carmen, Cagayan de Oro's uptown neighbourhood and offer you easy access to some of the city's greatest offerings. Be they entertainment or education related providing not just a place to reside but a space in which to thrive!
Unveiling Vail Residences
Vail Residences can open a world of opportunities. Also offering everything from cozy studio units to high-end amenities, Vail Residences has it all. Let's take a peek! Here are just a few highlights:
Studio Units to Fit Every Lifestyle
These residences offers studio units tailored to various lifestyles. Each is carefully planned so as to take full advantage of available living space. Also providing you with an ideal canvas upon which to build the home you have always longed for.
These residences' Grand Lobby Welcome to luxury living! Step through its inviting entrance, and feel like you have entered a five-star resort! Relax or socialize while taking in all its grandeur.
An Indoor Basketball Court for Active Living
In addition, these residences provides an indoor basketball court for residents looking to stay active, creating the ideal setting to foster community spirit as you invite neighbours for friendly matches or practice your skills on this specialized surface.
Jogging Path and Linear Park
At these residences, living a healthy and active lifestyle is simple. Their dedicated jogging path and linear park provide ample opportunity to get some physical exercise every day while connecting to nature in the city Cagayan de Oro.
Your Gateway to Uptown Cagayan de Oro
Living at these residences means more than finding an inviting residence. So you are immersing yourself in everything Cagayan de Oro has to offer. Therefore, SMDC brings convenience, transportation hub and luxury and community together into a stunning residential development project.
Also, SM Development Corporation (SMDC), commonly referred to as Vail Residences developer SM Development Corporation is known for creating quality living spaces. Also, many successful real estate developments across vine Residences and many others. Their commitment has earned the trust of numerous homeowners.
SM Development Corporation (SMDC): Your Trusted Partner
Now let's examine some of the features of these residences that set it apart:
Vail Residences Condo Living by SMDC
Vail Residences offer the ideal condominium living experience, combining elegance, accessibility, and a strong sense of community into one convenient community living solution. So here you will find everything from work areas to recreational facilities within reach – ideal living solutions and bright future awaits!
Vail Residences in Uptown Cagayan de Oro City Philippines offers you convenient access to essential sites like SM City and other key establishments. Also making this the ideal location to enjoy life to its fullest!
Embark on an Era of Excellence
So SMDC, known for their commitment to offering quality homes, have introduced other notable developments like Red Residences and Lane Residences that stand as testaments of SMDC's dedication.
Vail Residences Are Calling Out with an Enticing Dream Life Opportunity
Moreover, these residences provides Cagayan de Oro City residents and those looking to relocate an unparalleled combination of comfort and convenience, making life in Cagayan de Oro City even better! Also make Vail your new address to elevate your lifestyle within an inclusive community that values excellence and diversity.
Vail Residences – the Heart of Northern mindanaos finest neighborhoods
More than simply residences, these residences stands as an embodiment of luxury and progress – playing an invaluable role in Cagayan de Oro City – often called "City of Golden Friendship".
FAQ's
What sets Vail Residences apart?
Undoubtedly, these residences provides residents of Cagayan de Oro's uptown area a luxurious lifestyle, featuring top-of-the-line amenities, studio units and an unparalleled sense of community spirit.
Who are the developers of Vail Residences?
These residences was developed by SMDC (SM Development Corporation), an esteemed real estate development company known for their commitment to quality and excellence.
What recreational facilities can I find at Vail Residences?
These residences offer residents a grand lobby, covered basketball court, jogging path and linear park. Also, it gives them plenty of activities they can participate in and enjoy.
What are the implications of Vail Residences' location in Cagayan de Oro City?
Central location makes it an attractive and practical place for its inhabitants. Key establishments, like SM City, can easily be reached, making living here both practical and desirable.
How has Vail Residences contributed to the development of Cagayan de Oro City?
These residences stands as an exemplar of progress and development in Cagayan de Oro City. Contributing significantly to community life while upholding Cagayan de Oro City's status as "The City of Golden Friendship.